Launching A New Airline in Sydney
17 June 2007
I was honored to be a part of an amazing series of events recently as H&K Sydney introduced Etihad Airways to Australia. Etihad, named the "Best New Airline" three years running, is rolling out more destinations in its quest to bring true luxury high-flying service to guests around the world. The airline is based in Abu Dhabi which is on its way to becoming an amazing destination in its own right – definitely a "watch this space" location about to make its big debut on the world stage. As you would expect, we hosted a series of events reaching travel agents, government officials, corporate partners, airline industry representatives, travel media, consumer media and consumers who look for luxury everything. One of our biggest successes that still is driving the most buzz for Etihad (beyond its great service) is one of those "you don't know until you ask" situations. Since the product we were launching was the size of a plane, literally, we couldn't really bring it to the desks of our top tier journalists. Thus, we knew we had to do something at the Sydney airport. In the past airlines have simply hosted an event at an arrival gate – boring! We decided we wanted media to get up close and personal with Etihad, ideally in the form of an event hosted by the runway, with the new Etihad plane front and center. Given today's security concerns at airports, most assumed this wouldn't be possible at all. In actuality, after a few conversations with the great people at Sydney airport, turns out it was possible.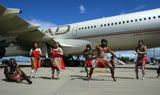 Fast forward a month later and we hosted more than 100 journalists "runway-side" in a tent housing an arrival lounge from the future – very high-end and luxurious that matched the desired positioning for Etihad. We had the Sydney Youth Orchestra and an aboriginal tribe providing entertainment, and guests simply walked out of the tent, up the stairs and into the Etihad way to travel in style. The excitement of being so close to the Etihad plane and taking in the whole airport experience still has people who attended talking about it – as if the little kid in each got to play for a day with their new friend, Etihad.
Each event during launch week was a huge success for a variety of reasons. These included never ruling out any idea if we felt it was right for the brand and launch, taking the time to see what was possible, having early conversations with Etihad on what success would look like to them at the end of the launch week and designing each event to convey the desired positioning of the airline – we had a clear vision in mind and delivered it. Throughout everything we did we looked for areas to reinforce the luxury positioning for Etihad. And finally, we didn't over brand anything – we let the class and sophistication of each event deliver the essence of Etihad, and avoided the need to put logos in eyesight of everyone at all times.
Next time you are jet-setting around the world check out Etihad – the best way to fly in luxury.