Naked Models from Vogue
24 July 2008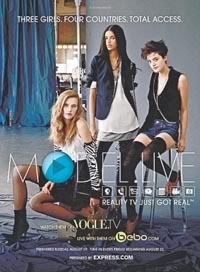 One can only hope as word hit the street this week that Vogue Magazine is launching its own Webisodes series – Model.Live. The show will star three wanna-be models who fly all over the world in the hopes of being the next Tyra, Cindy or Giselle. The show officially launches next week and will start with 12, eight minute episodes with more to come. The girls can be followed in between shows on Bebo, one of Europe's biggest social media network (like MySpace and Facebook).
The show's crew plans to follow the girls all over the world, from casting to casting, show to show, hoping for some drama from designers who don't want crews around or maybe some good cat fights – always a crowd pleaser. Not sure if some of the stereotypical model world will make the shows, but we can all watch and find out together.
There will be some fun interactive elements for consumers – they can click a link on the website airing the shows to buy any of the outfits models are wearing, so that's pretty cool. I'm hoping we'll be able to pick outfits for the girls to wear for castings or to parties, like real-life dress up dolls.
I guess time will tell to see if the $3M is worth it. I'm a huge fan of Top Model but I really watch it for Tyra, so not sure if I'd tune in. But with that kind of budget you have to guess there will be a big marketing machine driving awareness and traffic. At the end of the day its all about the content, so if these girls do have some "girls gone wild" moments it won't hurt.