Creative Protest Of The Year Award – Thailand Airport Protestors
12 December 2008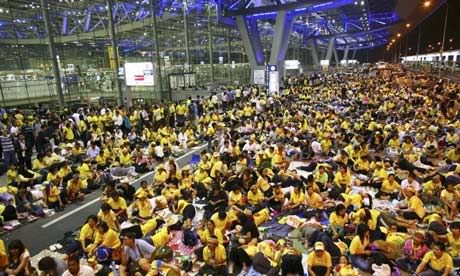 This is not a political blog or blog entry, and i'm definitely not saying I have any clear thoughts on who did what and who is right or wrong or anything of the like.  But as someone who tracks creative thinking, ideas, campaigns and everything in between I felt compelled to highlight the creative thinking that was at the centre of the recent protests in Thailand that shut down the country's airports for multiple days.  I know thousands were impacted, some were hurt in the process, international flight networks were hindered and more, but the fact of the matter is that this type of protest was one of the most creative I've seen in a while.
I purposely waited until the protest was over to write about this.  So, again, remove the political part of the whole situation and take a look at the protest with your creative hat on:
Wow-factor. Yes!  The group responsible for the closing down the airports has had similar activities before, they have closed down the country's prime minister's office before which obviously didn't have the same impact.  By closing down the airport the group received international awareness and direct impact to the economy, making it very hard to ignore and not listen to their messages.
Visuals. Lots of them.  Thousands of people wearing the same coloured outfits, goggles, hats and more provided a wave of yellow across the airport floors that hasn't been seen before.  Lots of Thailand flags and people of all ages and this creative idea had the right visual again to convey their message.
Conversation/buzz starter. Duh!  Who didn't hear about the protest and the shutting down of the airports and not talk about it with a friend, colleague or family member.  The idea and the impact were so revolutionary that you couldn't not talk about it.
News generation. Yes!  Before the awful attacks in Mumbai the airport closure in Thailand was the lead story every day.  After Mumbai it wasn't obviously front page news but definitely second page news.
Impact. After a bit more than a week a court banned the government and its party from politics because of election law violations.  Without the protest who knows if this would have happened.
Now, again, I'm not saying the protest or the government was right or wrong or anything at all – this is not a political blog entry and I'm definitely not a political scholar.  But as someone who appreciates creative thinking and looks for it everywhere I couldn't help but use this as another example to reinforce to everyone that every successful effort starts with one creative idea.