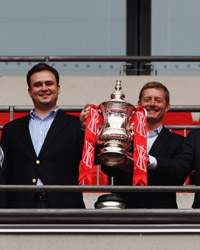 So Budweiser are now going to sponsor the FA Cup. One iconic US brand sponsors an equally iconic brand synonymous with England.
My colleague Andy Sutherden makes some great points about this deal which you can see here.
The deal certainly looks a little incongruous at first glance. And I wondered how Anheuser-Busch are going to explain it to their employees.
I know Andy is equally passionate about the role employees can play in effective sponsorships. But often they are not front of mind when brands are making decisions  around investing in a sponsorship property.
However, it was certainly front of mind for the panel discussion we hosted here at H&K last week. Thanks to those of you who braved the inclement weather to get along. I hope you found it worthwhile.
For those of you not able to join us, we were fortunate to have three great panellists Louisa Cheetham from Aviva, Morag Taylor, from British Gas and David Stubley from Soho Partners.
The case studies Morag and Louisa presented were incredibly impressive and persuasive.
It's clear that Aviva makes incredible use of their vasy array of sponsorship properties to engage employees. From the use of access to events (providing employees with tickets), to call centre visits from athletes, to the creating experiences that money just can't buy as incentives… you can see the vast potential in using sponsorship as a lever to connect employees with the brand.
Similarly I was struck by how effectively British Gas had tapped into their partnership with British Swimming. They have worked hard to get employees in the pool as part of a health and wellbeing agenda. This included inter-company swim galas, the establishment of a community of interest (essentially swim champions)  as well as local events targeted at employee's friends and family.  I thought this was  relaly, really great. The idea of British Gas providing something that actively engages the families of employees with what British Gas is about as company really works for me.
I think of my own growing family and wonder if they know why I choose to invest the effort I do at work… Anything which helps bridge that work/life balance divide is surely worth exploring?
But is this just me being soft and fluffy?
I don't think so. We have long know the power of "word of mouth"… even before we had some of the fruitless, recent debates about measuring the effectiveness of employee engagement.
Indeed when I look at employee engagement surveys I tend to ignore most of the questions (some critics would say ignore all of them!). But the one I always seek out is the question around whether you would "recommend this as a good place to work to your friends and family". This score – sometimes known as the "net promoter score" – really tells you whether an organisation has employees who are engaged, who are proud and who are committed to the organisation.
So, can we we connect sponsorship to engaging employees? Yes. And can we use this engagement to drive pride and productivity. Absolutely.